According to the force feature, the Spring can be divided into tension spring, compression spring, Torsion Spring and bending spring. According to the shape, spring can be divided into disc spring, ring spring, plate spring, Spiral Spring, truncated cone vortex spring and torsion bar spring. Because the common cylindrical spring is simple in manufacture and can be made into various types according to the load condition, the structure is simple, so it is most widely used. Generally speaking, spring manufacturing materials should have high elastic limit, fatigue limit, impact toughness and good heat treatment properties. The commonly used materials are carbon spring steel, alloy spring steel, stainless spring steel, copper alloy, nickel alloy and rubber. Spring manufacturing methods include cold coil method and hot coil method. Spring wire diameter less than 8 mm generally by cold coil method, more than 8 mm by hot coil method. Some springs have to be made after strong pressure or shot penning treatment, can improve the bearing capacity of the spring.
Torsional spring is a spring that bears torsional deformation, and its working part is also tightly wound into a spiral shape. The torsion spring end structure is a torsion arm processed into various shapes, not a hook ring. By using the lever principle, the torsion spring has great mechanical energy by twisting or rotating the elastic material with soft and toughness.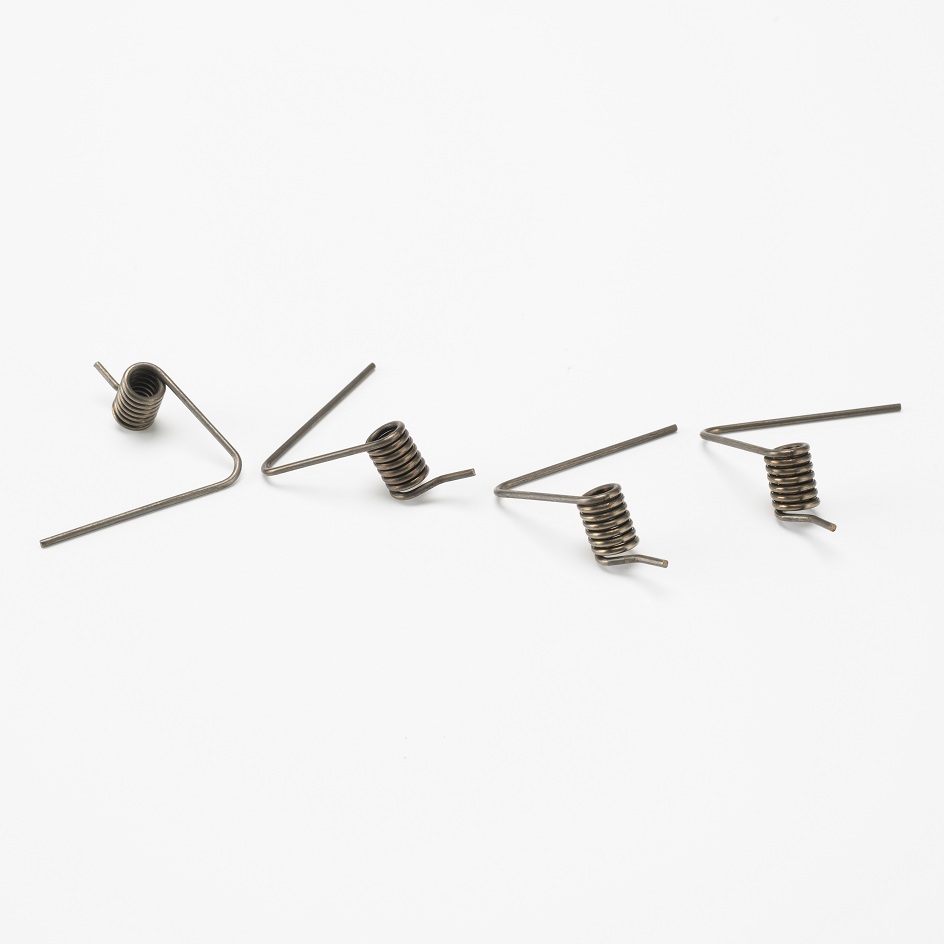 The tension spring is a spiral spring that bears axial tension. When not under load, the ring and ring of the tensile spring are generally tight without clearance.
Compression spring is a spiral spring with axial pressure. The material section is mostly circular, and it is also made of rectangular and muti-strand steel. The spring is generally of equal pitch. The shape of compression spring is cylindrical, conical, convex and concave, and a small amount of non-circular. There will be a certain gap between the ring and ring of compression spring. When subjected to external load, the spring shrinks and deforms and stores deformation energy.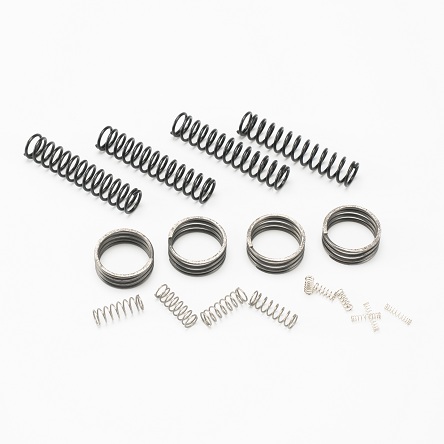 Progressive spring, which is designed to be of varying thickness and density, has the advantage of absorbing the road surface's ups and downs through the lower elastic coefficient when the pressure is small, ensuring ride comfort. When the pressure increases to a certain extent, the thicker part of the spring plays a role in supporting the body. The disadvantage of this spring is that the control feeling is not direct and the accuracy is poor.
Linear spring, linear spring from top to bottom thickness, density unchanged, elastic coefficient is fixed value. The designed spring can make the vehicle obtain more stable and linear dynamic response, which is beneficial to the driver to better control the vehicle, and is mostly used in the performance oriented modified vehicle and the competitive vehicle. The disadvantage is, of course, the comfort is affected.
Lanejoy factory have over 20 pcs spring machine and provide small precise spring to iphone, quality is stable and price is reasonable
Shenzhen Lanejoy Technology Co.,LTD
Business Type:Manufacturer
Product Range:Nuts (SPU) , Springs , Kitchen & Tabletop
Products/Service:Stainless Steel Wire Mesh , Small Compression Spring , Cooling Rack , Electroplating Products , Brass Nuts , Screw
Certificate:ISO/TS16949 , CE , FDA , RoHS
Company Address:No.30, Tongchang Road, Longdong Community, Longgang District, Shenzhen, Guangdong, China
Previous:
How to solve the small problem in the process of producing spring
Next:
304 stainless steel introduction